Specification:
■Product Model - Helios UP-100 (Graphical Irradiation Function)
■External Power Supply Specifications - AC100V - 240V 50Hz / 60Hz Common 220VA
■UV Lamp - Mercury Discharge Lamp YODN165 165W; Lamp Life: ≧2000H
■UV Intensity - Probe: USHIO UIT-250 S365nm
●Fiber model (without lens) ANUP5033 (Ø3.5mm)
●Test distance: 15mm
●365nm intensity specification: 650mW/cm2
■Function:
-Timed irradiation function: the irradiation time can be irradiated according to the set value.
-Manual control irradiation function: the gratings can be manually switched for irradiation.
-Graphic irradiation function: able to edit the UV intensity and time in any desired graphic.
-Setting lock function: prevent value changes caused by improper operation.
■Lamp replacement prompt: "LAMP CHANGE" indicator lights up to prompt the replacement of a new lamp.
■Shutter - Manual / Timed
■External signals:
-Input: Shutter on/off (manual/timed/graphic), turns on the lamp.
-Output: Turns on the lamp, lamp stability, ready for irradiation, opens/closes the shutter, lamp life, malfunction.
■Surrounding environment used: -10℃ ~ 40℃
■Relative humidity: 80%RH or less (at 25℃), no condensation
■Appearance size (mm): 165 (width) × 191 (height) × 325 (depth)
■Body weight: about 7.8kg
Spectrum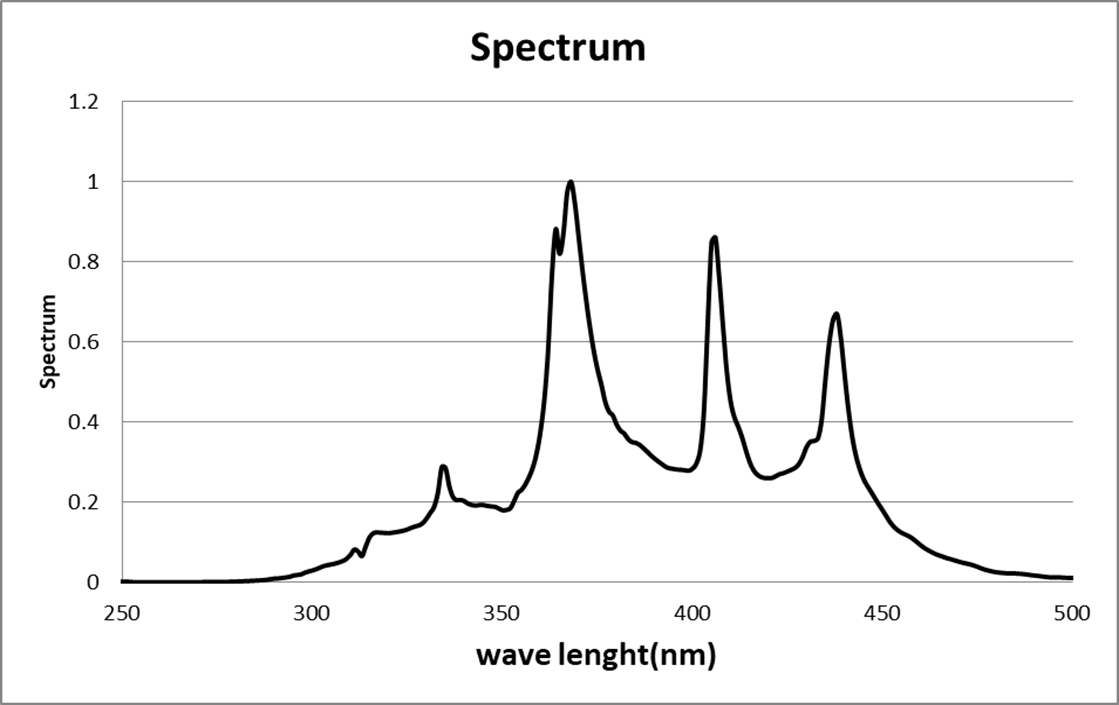 Dimensions